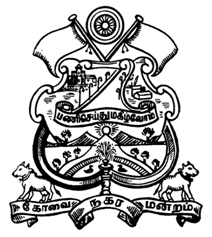 Coimbatore is the second largest city in Tamil Nadu, situated on the banks of the river Noyyal surrounded by the Western Ghats. Often referred to as the Manchester of South India, it is one of the fastest growing cities in India and is a major hub for textiles, industries, commerce, education, information technology, healthcare, and manufacturing. There are a number of cotton production and textile industries located in and around the city.
Coimbatore city has a warm and humid climate with the summer months from March to May seeing hot and humid days when maximum temperatures can reach 38°C or more. The temperature starts to dip from the month of August towards the end of the winter season, though minimum winter temperatures remain above 18°C.
As the city is surrounded by the Western Ghats, it benefits from the South-West monsoon rainfall between June to August. After a warm and humid September, rainfall is brought in by the retreating North-East monsoon from October and can last until early November. The average annual rainfall received by the city is around 700 mm.
Population: 1,050,721 (2011 Census)
Area: 257 sq. km
No. of wards: 100
Gender ratio: 997/1000 males
Literacy rate: 91%
The CapaCITIES project supported Coimbatore city to develop a GHG Emission Inventory and a Climate Resilient City Action Plan (CRCAP) in 2018 which was approved by the city council in February 2019. The project also implemented quick win (pilot) projects to showcase best practices in sectors like Solid Waste Management, Air Quality and Mobility, details of which can be found below.